Vergennes, VT Factory Store
Regular Store Hours
Mon- Fri: 9:00am - 5 pm
Saturday: 8:30 am - 4 pm
Sunday: Closed
Mailing Address
1 Main St.
Vergennes, VT 05491
Phone: 1-888-203-5416
Occupying nearly 3,600 square feet, our showroom is the only place to find every product we sell. If you'd like to "kick the tires", and see what our machines look like up close, this is the place to be.
If you're interested in owning a Neuton, you can start by talking with one of our friendly sales associates. They know our machines inside and out and can guide you toward the Neuton that's just right for your needs.
But if all you want to do is have a look around, that's fine with us, too. There's never any sales pressure in our store — so you can feel free to browse for as long as you like.
And while you're having a look around, you'll see we offer much more than Neuton. Our store also has many of the products we sell in our catalog and on our website. Everything from garden tools and chainsaws to earth augers and how-to books are right at your fingertips. Plenty of unique and practical tools and products for your yard, home, garage and workshop.
We'd love to see you!
Driving Directions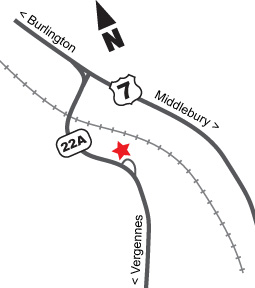 Coming from the north:
Take Route 7 south toward Vergennes
Turn right off Route 7 at the light, on to 22A
Follow 22A for 0.7 miles to the DR Factory Store behind the big red barn on your left. We are just before Kennedy Brothers, also on your left.
Coming from the south:
Take Route 7 north toward Vergennes
Turn left off Route 7 at the light, on to 22A
Follow 22A for 0.7 miles to the DR Factory Store behind the big red barn on your left. We are just before Kennedy Brothers, also on your left
Get Directions